Il progetto
A cura di Studio Urbana
Responsabile di progetto Silvia Savoca
Testi di Barbara Duran, Silvia Savoca, Ignazio Venafro, Renato Miracco, Benedetta D'Ettorre, Simona Cirelli, Maria Azahara Henando Ibanez
Studio Urbana propone un ambizioso progetto che prende il nome di: White, un cammino all'interno degli archivi reconditi ed artistici dell'artista Barbara Duran.
Il progetto White è dedicato a tutti coloro che fuggono dalle guerre, dalle ingiustizie, dalla tortura. Alle donne, alle madri, alle sorelle, agli uomini, ai fratelli, ai figli. A tutti gli esseri viventi che soffrono e che hanno il diritto di vivere. Dedicato alle nostre sorelle e ai nostri fratelli.
Un viaggio che racconta e raffigura personalità femminili dell'iconografia antica e moderna dipinte su tele di diversi formati che destrutturano le regole di pittura canoniche proponendo al fruitore un dialogo fra segno pittorico e spazio atto a sollecitare le corde della percezione di ognuno di noi.
White intende dimostrare come l'arte possa diventare strumento efficace per la trasformazione di un pensiero legato ad un'iconografia classica spostando l'asse dal piano visivo a quello delle sensazioni.
WHITE è un lavoro di sottrazione nelle sovrapposizioni sensoriali e strutturali che annebbiano l'immagine oggi, vuol essere la porta che attraverso il rumore bianco, possa aprire la percezione all'empatia. Icone contemporanee del mondo introducono a comprendere che la gioia e il dolore che si scontrano nell'esistenza dell'umanità possano ricondursi in essenza ad un' assenza della percezione dell'altro, che è altro da noi solo se volutamente ignoriamo che il nostro essere , è, solo nella relazione ad un altro da sé , nel presente del tempo, nella comprensione della differenza.
L'esposizione include molteplici linguaggi visuali, quali: pittura, disegno, video.
Il progetto espositivo WHITE è composto da quattro cicli di opere di cui tre sono già state presentate in preview, rispettivamente a Parigi, Torino Esposizioni e al Castello di Santa Severa. Con il patrocinio di: MiBAC / Sovrintendenza Archeologica, Belle Arti e Paesaggio per l'area metropolitana di Roma, la provincia di Viterbo e l'Etruria meridionale, Lazio Crea, Coop Culture, visitlazio.com, Comune di Santa Marinella, Fondazione Il Gabbiano Rome/New York, Fondazione Valentina Moncada, WithoutBorders Film Festival, Centre Culturel Italien, Galerie Metanoia.
WHITE
progetto e testi di Barbara Duran, a cura de La Galerie Metanoia, Paris 2016
- 6 opere, tecnica ad olio su tela
- 100 icone, tecnica ad olio su tavola di legno
- un video di 13'50", ad alta definizione
PARADOX, Inaudite Sincronie
a cura di Simona Cirelli e Maria Azhara Hermando Ibanez, Paratissima XII, Torino Esposizioni 2016
-Appearing through invisible, un polittico in sequenza: 5 opere su carta fatta a mano, tecnica punta d'argento
SERVAE. Icone Liquide
a cura di Ignazio Venafro e di White Duran Project Studio Urbana, Sala Pyrgi, Castello di Santa Severa 2018
- 20 opere, tecnica mista su carta di riso cinese
IS-LAND
testo di Benedetta D'Ettorre
60 opere di varie dimensioni, tecnica ad olio su tela e tecnica mista su carta
La mostra avrà luogo presso la sede dell'ex Cartiera Latina, tra i pochi impianti industriali sopravvissuti nella città di Roma, una struttura unica nel suo genere ed eccezionale per la posizione strategica a ridosso delle Mura Aureliane, lambita per tutta la sua lunghezza dal fiume Almone, unisce idealmente l'Appia Antica alla via Cristoforo Colombo.
L'evento si svolgerà nel periodo fra il 30 Ottobre 2021, giorno in cui avverrà l'inaugurazione, al 21 Novembre 2021. 
È prevista la stampa di un catalogo scientifico.
Ringraziamo chiunque desiderasse supportarci per la realizzazione di questo progetto!
* Tutti i sostenitori che ci accompagneranno nella realizzazione di questo progetto saranno citati in catalogo.
Le donazioni verranno eseguite mediante carta di credito, in quanto il pagamento digitale risulta sicuro e tracciabile.
© DURAN 2016 / 2020 Tutti i diritti sono riservati
Project
Curated by Studio Urbana
Project manager Silvia Savoca
Texts by Barbara Duran, Silvia Savoca, Ignazio Venafro, Renato Miracco, Benedetta D'Ettorre, Simona Cirelli, Maria Azahara Henando Ibanez
Studio Urbana proposes an ambitious project called White , a journey into the hidden artistic archives of the artist Barbara Duran
White is dedicated to those who escape from wars, injustice and from torture; to the women, mothers, daughters, to the men, fathers and sons; to all living beings who suffer and who have the right to live; dedicated to our sisters and brothers.
White is a journey that tells and depicts female personalities of ancient and modern iconography painted on canvases in different formats that deconstruct the canonical rules of painting by offering the user a dialogue between pictorial sign and space aimed at soliciting the strings of the perception of each of us.
White intends to demonstrate how art can become an effective tool transforming the idea of the classical iconography by moving the axis from the visual plane to that of sensations.
WHITE is a work of subtraction of the sensorial and structural superimpositions that cloud the image today. It wants to be the door that, through white noise, can open perception to empathy. Contemporary icons of the world introduce and allow us to understand that the joy and pain that collide in the existence of humanity can essentially be traced back to an absence of the perception of the other, which only if we deliberately ignore that we exist only in a relationship with the other by definition in the present time, in the understanding of difference.
White includes multiple visual languages, such as: painting, drawing and video.
The WHITE exhibition project consists of four cycles of works of which three have already been exhibited in Paris, Torino Esposizioni and at the Castello di Santa Severa respectively. Under the patronage of: MiBAC / Superintendence of Archeology, Fine Arts and Landscape for the metropolitan area of ​​Rome, the province of Viterbo and southern Etruria, Lazio Crea, Coop Culture, visitlazio.com, Municipality of Santa Marinella, Il Gabbiano Foundation Rome / New York, Valentina Moncada Foundation, Without Borders Film Festival, Center Culturel Italien, Galerie Metanoia.
WHITE
project and texts by Barbara Duran, curated by La Galerie Metanoia, Paris 2016
- 6 works, oil on canvas
- 100 icons, oil on panel
- 13'50 "video, HD
PARADOX, Unheard of Synchronies
curated by Simona Cirelli and Maria Azhara Hermando Ibanez, Paratissima XII, Turin Esposizioni 2016
-Appearing through invisible , a polyptych on sequence: 5 pieces on handmade paper, silverpoint
SERVAE. Liquid Icons
curated by Ignazio Venafro and White Duran Project Studio Urbana, Pyrgi Room, Santa Severa Castle 2018
- 20 pieces, mixed media on Chinese rise paper
IS-LAND
text by Benedetta D'Ettorre 
60 pieces, different sizes, oil on canvas and mixed media on paper
The exhibition will take place at the headquarters of the former Cartiera Latina, one of the few surviving industrial plants in the city of Rome; a unique and exceptional structure for its strategic position close to the Aurelian Walls, lapped for its entire length by the river Almone which joins the Appia Antica to the Via Cristoforo Colombo.
The event will take place between the opening day of October 30th, 2021 to November 21st, 2021. 
Also, a scientific catalog will be printed.
We thank anyone who wishes to support us for the realization of this project!
* All supporters who will accompany us in the realization of this project will be mentioned in the catalog.
Donations will be made by credit card, as the digital payment is safe and traceable.
© DURAN 2016/2020 All rights reserved
Domande frequenti (FAQ)
sul progetto (dimensioni consigliate 800x400 pixel)
Come funziona
I fondi raccolti con questa campagna andranno quindi a finanziare: produzione delle opere, trasporti ed allestimenti, grafica e stampa catalogo, locandine e manifesti, ufficio stampa e comunicazione, affitti e service.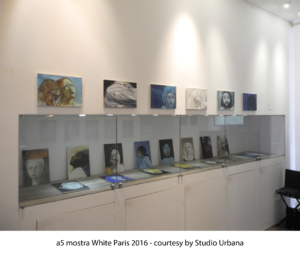 - these are some of the hundred Icons / World -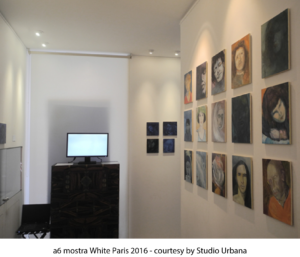 Barbara Duran e il team di Studio Urbana considerano molto importante dare la possibilità a chiunque di poter contribuire con la cifra che ritiene più consona per sé e per il progetto; per questo motivo offriamo quattro diversi tipi di donazione: la prima, partirà da un minimo di 15 euro fino ad arrivare alla quarta ed ultima che parte da una base di 320 euro. La prima opzione prevede la donazione di una copia del catalogo della mostra; la seconda la realizzazione, da parte dell'artista di una Icona / Mondo con ritratta la propria immagine, specificamente per l'allestimento della mostra, farà parte dell'installazione e sarà riprodotta in catalogo. Verrà successivamente spedita al donatore. Invia 2 o 3 fotografie del tuo volto alla mail info.studiourbana@gmail.com. Contestualmente riceverai anche una copia del catalogo della mostra.
È questo il modo che abbiamo scelto per suggellare la nostra connessione e rinnovare la nostra riconoscenza nei vostri confronti per averci accompagnato fino al compimento di questo evento.
[...] come le icone da bisaccia che il viandante aveva con sé nel cammino iniziatico, tali alle immagini della memoria dei propri cari, della propria terra che l'emigrante tiene con sé, o chi è in fuga dalle guerre conserva per preservare la propria identità, da dove viene, la sua origine.
Perché Sostenerci
Studio Urbana è uno spazio indipendente di produzione culturale, creato e diretto dagli artisti Barbara Duran e Corrado de Grazia in cui la parola ricerca fa da garante non solo nella produzione artistica ma anche nel pensiero alla base di questa.
Barbara Duran
Artista italiana di origine cosmopolita, vive e lavora tra Orvieto e Roma. Ha vissuto e lavorato in Francia, in Grecia e in America Latina.
Direttore artistico di Studio Urbana -Spazio Indipendente di Produzione Culturale- aperto nel 2007 come spazio espositivo, ha curato mostre personali e collettive collaborando con istituzioni e gallerie d'arte.
La sua opera si esprime attraverso linguaggi molteplici tra cui la pittura, la fotografia e la video art.
Ha cominciato ad esporre intorno agli anni '90, partecipando a mostre collettive e realizzando personali in Italia e all'estero, ha prodotto e realizzato cortometraggi e video nell'ambito dei propri progetti espositivi.
Il suo lavoro è attualmente esposto in collezioni private e pubbliche, sia italiane che straniere.
A proposito di Duran hanno scritto, tra gli altri, Domenico Guzzi, Maria Teresa Benedetti, Ignazio Venafro, Ruggero Savinio, Annelisa Alleva, Renato Miracco, Ornella Fazzina, Teresa Macrì, Marco di Capua, Lele Luzzati, Marco Bechis, Gaston Troiano, Anna Gioioso, Patrizia de Rachewiltz, Massimo Nicotra, Marc Higonnet, Anna Pintus, Amerigo de Agostini, Antonio Sammartano, Darine Rajhi, Simona Cirelli, Maria Azahara Hernando Ibáñez.
How does it work
The funds raised with this campaign will therefore go to finance: production of the works, transport and set-ups, graphics and catalog printing, playbills and posters, the press and communication office, rentals and service.
For Barbara Duran and the team at Studio Urbana it's really important to give anyone the opportunity to contribute with the amount they deem most suitable to donate for the project; for this reason we offer two different types of donations: the first will start from a minimum of 15 euros and the second from a minimum of 320 euros. The first option includes a copy of the exhibition catalogue; the second one offers the creation by the artist of an Icona/Mondo with a portrait of the donor, specifically made for the installation of the exhibition, will be part of the installation and will be reproduced in the catalogue.
After the exhibition, it will be sent to the donor along with a copy of the exhibition catalogue. Send 2 or 3 photos of your face to the email info.studiourbana@gmail.com.
This is the way we have chosen to seal our connection and renew our gratitude to you for having partnered with us until the completion of this event.
[...]like the saddlebag icons that the traveler had with him on the initiatory journey, such as the images of the memory of his loved ones, of his own land that the emigrant keeps with him, or those who are fleeing from wars keep to preserve their identity, from where it comes from, its origin.
Why support us
Studio Urbana is an independent space of cultural production, created and directed by the artists Barbara Duran and Corrado de Grazia in which the word research acts as a guarantor not only in artistic production but also in the thinking behind it.
Barbara Duran
I am  an artist born in Rome from a cosmopolitan family, she is a painter and videomaker, lives and works between Orvieto and Rome. He has lived and worked in France, Greece and Latin America.
Artistic director of Studio Urbana -Independent Space of Cultural Production- opened in 2007 as an exhibition space, he has curated solo and group exhibitions collaborating with institutions and art galleries.
Duran started exposing during the 1990, in collective and personal exhibitions in Italy and abroad. She has produced and made short films and videos as part of its exhibition projects.
Her work is currently exposed in private and public collections, both italian and foreign.
Her work is expressed through multiple languages including painting, photography and video art.
About Duran have written, among others, Domenico Guzzi, Maria Teresa Benedetti, Ignazio Venafro, Ruggero Savinio, Annelisa Alleva, Renato Miracco, Ornella Fazzina, Marco di Capua, Teresa Macrì, Lele Luzzati, Marco Bechis, Gaston Troiano, Anna Gioioso, Patrizia de Rachewiltz, Massimo Nicotra, Marc Higonnet, Anna Pintus, Amerigo de Agostini, Antonio Sammartano, Darine Rajhi, Simona Cirelli, Maria Azahara Hernando IIbáñez.